Silvervine comes in many fun forms for your kitty to enjoy. From sticks to chew on, to a powder to rub on toys, to even whole fruits to bat around the house. You are sure to find something perfect for how your cat or cats love to play!

Silvervine is even more popular that catnip in many countries of the world! Studies show over 80% of cats enjoy silvervine making it perfect for cats who don't react to catnip (33%) or as way to try something new to change up how they play.
Products with Only Silvervine
Products with Silvervine & More
Read More About Silvervine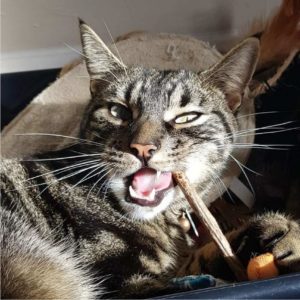 Silvervine is the lesser known but perfect alternative to catnip! It causes the same fun reactions but comes in different forms and is more likely to be enjoyed!
Read More »